It's been a busy couple of weeks!
I flew to San Francisco two weeks ago to attend the Animation Mentor graduation. To sum it up in a few words, it was pretty awesome!It was like the Animation Mentor BBQ times 100. I got to meet so many of my classmates and friends, and my best friend Gail was able to attend to. I also 'won' an award for 'most entertaining video reference' for me and my father falling off stumps doing reference for the post to post jump.
To top it all off, my mentor, Michal Makarewicz from class 3 was there! I had a strange feeling he'd be there. That's us below.
He also offered to take hid former students ... me, Kimmy, and Vanessa on a tour of Pixar!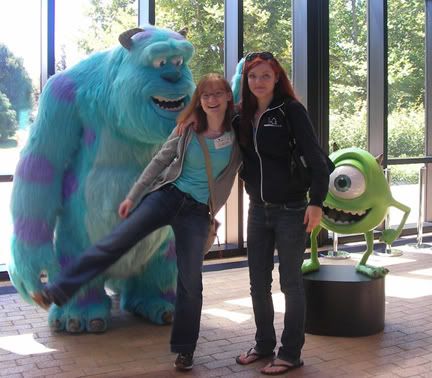 It's such a nice feeling to meet one of the people whom you admire and helped to teach you. I found it very heartening over the whole week that animators as a whole seem like very nice people.
After a couple days in San Fran, many people headed down to LA for Siggraph. Kimmy, Eduardo and I took a Greyhound bus down to LA. YOu would think I would've learned better from taking the Greyhound across the country a couple months ago, but I came back for more punishment. The price was right, though. Only $40. It wasn't such a bad trip. We just got in at almost 4am Monday morning.
We stayed in a hotel with a cool group of people. Kishore, Tobi, Eduardo, Kimmy and I all stayed at the same hotel room for various lengths of time. For some reason we lucked out and had 3 double beds in our room!
Siggraph was a great experience. My only complaint is that it felt too big. There really wasn't much time for talking to recruiters in person because there were always lines and mobs of people everywhere.
On Tuesday morning, somehow Eduardo and I ended up with passes that had blue at the bottom, marking us as exhibitors. We didn't know what the blue went until we were let in the exhibit early before the big mob. We went straight to the AM booth where we met Mike Walling and Bobby Beck! Bobby offered to look at our reels, and of course we said sure!
Tuesday night we had an AM party at the top of a pretty cool hotel. It was a great place to talk to people, and I met some nice folks. I even met Mike Stern, who graduated AM 2 years ago and whose blog helped inspire me to join AM. He had his short film 'Distraxion' shown at the film festival at the Nokia theater. It was so neat to see his short on the big screen!
Every day was full and there were parties on most nights that by the end of the week we were kind of sleep deprived =).
On Thursday I got a call for an interview from a pretty cool place! I haven't heard from them since, and my hope is slipping by the day, but I was so excited to get the call! I am still hopeful for it. It seems I am always coming close, but not quite getting the job for various reasons, but I gotta keep on trying.
Friday I left LA for Boston.... by train. I flew out to San Fran, but darn it, I dislike planes! The train ride wasn't nearly as eventful as the Greyhound trip across the country. I actually got to sleep on the train, but it was kind of a lonely trip back compared to the friends I made on the bus trip. I got home late monday night and have been sick ever since with a cold I caught along the way.
It has been a great trip, but I gotta get back to work. After seeing my classmates and mentor, I am more excited than ever to become an animator. I see what I am working towards.